A contagious smile, a clutch of ruffled hair and a pair of gifted hands & legs added with supreme musicality are the prominent features of teen drummer SAMBIT CHATTERJEE — a rising star in the world of music.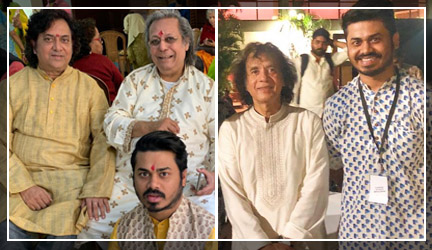 Sambit has been playing drums, having taken tabla classes from his father Pt. Subhen Chatterjee , Sambit has now branched out, trying to find his sound. He considers Ranjit Barot of be one of his mentors now. He has been endorsing some of the leading music brands of the world now like MEINL Cymbals / EVANS Drum Heads / SHURE IEMS and has been playing and touring the world for a while now. He is playing with some of the leading indie bands in the circuit like What Escapes Me, The Ganesh Talkies, aswekeepsearching , Karma - Bandish Fusion, Generation ft. Mohini Dey / Esani Dey & he has also played with eminent classical musicians like grammy winning Pt. Vishwa Mohan Bhatt / Pt. Kumar Bose / Ust. Taufiq Qureshi to name a few and is playing with Sitar virtuoso Niladri Kumar for a while now. He has been invited by Ust. Zakir Hussain and his family to play solo at Ust. Allah Rakhha's 100th year birthday celebration concert and the very next day he performed with highly acclaimed vocalist Isheeta Chakraborty at the International Jazz Festival held at NCPA Mumbai curated by Loiuz Banks. Last NH7 Weekender Sambit shared stage with SWITCHFOOT the American Alternative band and he was the only drummer to represent INDIA at the Commonwealth Games Gold Coast 2018, these are some of his achievements as a professional musician but he aims at learning and gaining more knowledge of music.

Follow Sambit's work :
FACEBOOK : www.facebook.com/ccsambit
www.facebook.com/sambitc
INSTAGRAM: @sambitc
He would like to extend his gratitude to Meinl Cymbals, Bhargava's Musik Pvt. Ltd, Evans Drumheads, ProMark sticks, Cymbal Resonance System, MusicVille Raipur, SHURE & Instrupad for their constant support they show towards his music and he endorses these brands proudly.
YOUTUBE LINKS:
MEINL FACTORY VISIT :

All instruments cover :


MEINL PAGE:
Click here
CRS PAGE :
crsnorway.com/sambit-chatterjee/
SAMBIT's KIT: